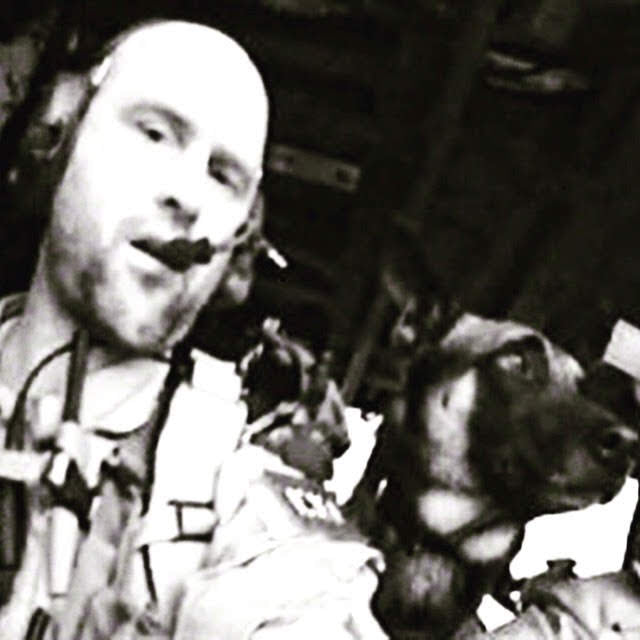 Friday afternoon, I had a conference call with Emily, the Director of Operations, and Paige, the Marketing and Social Media specialist. We were talking about how we were going to use the anniversary of Spike's death, as an attempt at raising funds for our mission. I created Spike's K9 Fund because of him and what he meant and still means to me. We were going to call the event "Spike's hike" and our friend Joey Nobody, made this badass logo for us:
As the conversation developed, I was asked questions like: "how far did you walk with Spike on your last mission?" Now, that question is an innocent one; a question to help the ladies figure out the best way to market that information, you know, match the distance we walked that December 2006 night in the suburbs of Ramadi, with the hike I was planning on the 23rd of December, 2020. When they asked that question, I was immediately transported back to the night Spike died. There is no way they could have understood what that was like for me. I responded very harshly. Then Emily asked me; "how far did you carry Spike?" and that sent me into a tailspin. First off, I wasn't some badass K9 handler who "carries" his dog. Spike carried me. He carried me through close to 45 missions before that last one- the last time we worked together. When I did carry him that night, he was bleeding from a gunshot wound from a bullet I'd delivered to the human he had been sent to bite, by me, and that bullet went through the human and into Spike, and I was running, with him on my shoulder and I felt his last breath. I felt his soul leave. I'm no tough guy writing this, I'm a 53-year-old man with tears in his eyes. Anyway, I carried his 62lb body with me for about 600 meters to the one building we'd secured and I desperately laid Spike's body in front of a very good Air Force PJ. I remember the PJ looking at me and then shining his headlamp on Spike's body and he took a deep breath and looked me in the eye and said: "Jimmy, I can't do anything to save Spike at this point." So when Emily and Paige were both in high school, I was sitting on the dusty, bloody floor of a building in Western Iraq holding my best friend, a dead friend with a bullet-hole I'd put in him.
At this point in the conversation with Emily and Paige, I was unable to participate in any positive way. I abruptly left the meeting and went about trying to get my shit together.
My point here is that this mission of ours is important. It isn't a mission where nobody has skin in the game. For me, and the handlers we help, this shit is very real and the consequences for failure can often mean the death of our best friend or others on our team. These Dogs are not volunteers. I want to repeat that, these working K9's are NOT volunteers. We ask these dogs to do things that we don't want to do ourselves, on behalf of other humans. They deserve our best care. Additionally, I hope that my inability to deal with the seemingly innocent questions that Emily and Paige were asking, helps others understand how nefarious this stuff can be to our souls. I've been through countless hours of counseling, a plethora of pharmaceuticals, and a recent life-changing experience with plant medicines, and that stuff about Spike is something that still hurts, deeply. I didn't purposely shoot Spike. I was shooting the man who was holding him down and biting him (we saw human bite-marks in Spike when we did the autopsy). I remember going back on the helicopter, feeling his body get cold in my lap. I remember standing in the debrief and trying to keep my composure as I discussed my part in the mission that night. I remember going back to Spike's kennel and seeing him with the American Flag draped over his body. I remember writing Pablo Neruda's Poem "It means shadows" on his kennel door.
In spite of the obvious pain, I'm glad I remember those things, because it helps me stay motivated to help as many dogs like Spike as I can. I've assembled an amazing team of employees and volunteers from all over the country. Their hearts are in it, just like mine. Spike was a driven soul, and I want our organization to emulate that drive.
I want to publicly apologize to Emily and Paige, the real professionals that hold this organization together. They didn't ask to see me get angry. They weren't trying to dig things up that would cause me pain, they were just trying to do their jobs. I love them and am grateful for their hard work and love.
They should both get pay raises for having to work for an emotional guy like me.
In closing, on 23 December 2020 at 0900 EST, I will be doing a 5k walk with a backpack holding the ashes of Spike, Toby, Falco, and Remco. The Dogs I worked with that were killed in combat. They are represented by the stars in our logo. I will have my dog Mina and my new puppy Gianni with me and I will "go live" on the Spike's K9 Fund Instagram account. Hope you join me.
With gratitude and appreciation.